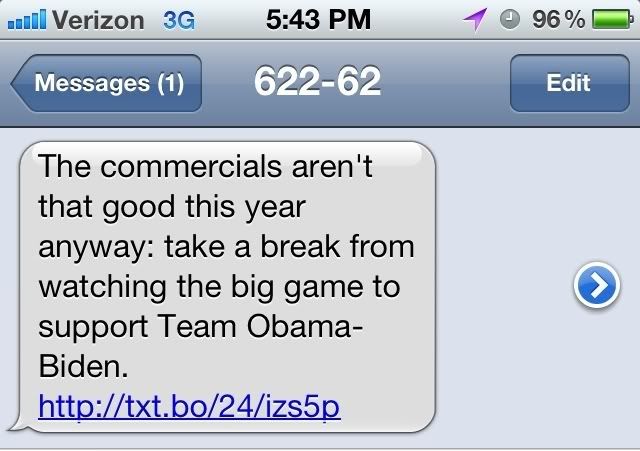 President Barack Obama's digital grassroots efforts have been a staple and innovative approach since his path to the White House began in 2008. Super Bowl Sunday this year was no different as the president's campaign team pressed on in getting closer to an anticipated second term.
At approximately 5:40p.m., those subscribed to President Obama's campaign updates via their mobile phones received a message urging them to donate campaign funds at this link. In what seemed to be good fun, the message also took a shot at the famed commercials aired on game breaks.
It might turn out as a smart move for the Obama campaign. The call to action blasted out on the biggest sports day of the year, one that enjoyed a record television and internet audience. It's unlikely that the message would have received the same attention during the NBA Finals or a NASCAR race.
As for the potential invasiveness factor of getting a message asking for money, it's not likely that President Obama's critics would be subscribed to his text messages. Therefore, only his most engaged supporters would likely be receiving the fundraising call.
They're the ones most likely to donate. The core. The base.
Interestingly enough, the text came very close to Clint Eastwood's "It's Halftime" ad.